't Is mijn smaak niet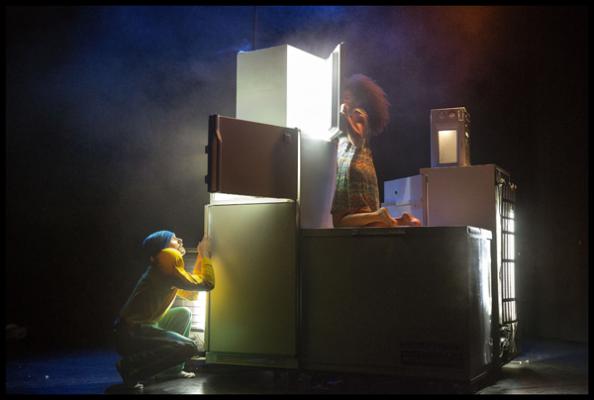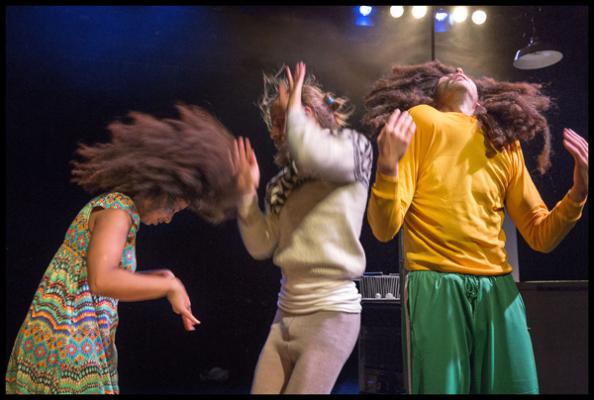 't Is mijn smaak niet
At the bottom of our street there is a house.
It's a strange house, which we give a wide berth whenever we can.
If you listen carefully you can hear machines rattling and chickens cackling.
The people who live there must be real weirdoes.
Shall we take a peek through the keyhole?
The wordless Not my cup of tea introduces you to three strange creatures who build their own universe against a backdrop of fridges. Their worlds gradually merge into one well-oiled machine. Just when things seem to be going swimmingly, strange things start to happen…
Fridges become tunnels, become wardrobes, come to life. 
People become chickens become people become things… until the boundaries between human, animal and things are completely blurred.
So who is the chicken and where is the egg?
Opening night: 1 februari 2013 in KOPERGIETERY
PRODUCTION KOPERGIETERY & Het Lab Utrecht
CONCEPT: Hendrik Lebon & Sara Dykmans
CHOREOGRAPHY: Hendrik Lebon i.s.m. Miroslav Kochánek, Tegest Pecht-Guido
DRAMATURGY: Moos van den Broek
SCENOGRAPHY AND COSTUMES: Sara Dykmans
MUSIC: Tom Parkinson
PLAY DANCE: Hendrik Lebon, Miroslav Kochánek, Tegest Pecht-Guido
LIGHT DESIGN: Dirk Du Chau
SOUND: Korneel Moreaux
Already as a child, Hendrik Lebon took part in the Theatre workshops and danced in Mannen and Koekoekkind (Out in the woods), both directed by Ives Thuwis. Since finishing his dance studies at the Fontys Academy (Tilburg), he has been working for various international companies and creating  his own light-footed performances in which the lines between dance, theatre and movement are blithely crossed.
For Not my cup of tea he pooled forces with designer Sara Dykmans. Last year she compiled the beautiful exhibition Gevaarlijk Jong, and created the fairy-like  Het Peperkoekenbed (The Gingerbread Bed). Hendrik himself shares the stage with two other dancers: Tegest Pecht-Guido, who is of Ethiopian origin, and Miroslav Kochanek, who is of Czech origin.