BUZZ - When being second comes first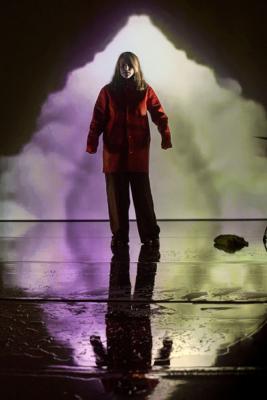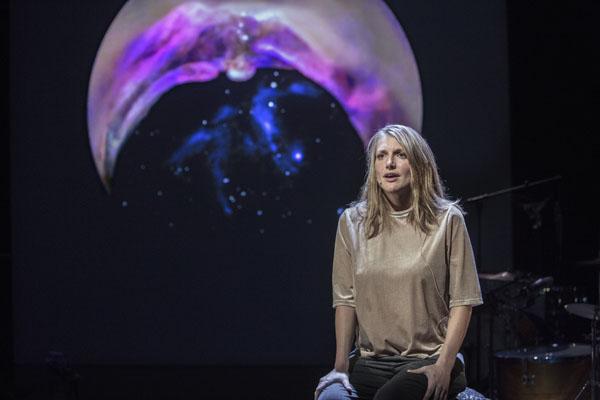 BUZZ - When being second comes first
KOPERGIETERY, KGbe & LAZARUS
XL
Not everybody wants to run a company.
Not everyone wants to be a top athlete.
Some of us want to be secretaries,
sitting on the other side of the meeting room doors
after they have been closed,
some of us want to collect rubbish,
even on Easter Sunday,
some of us want to perform an autopsy on a fifteen-year-old boy
who, one morning in January,
commits suicide and is found one week later,
in the water.
Some of us don't want to appear on TV, on the radio, in the press.
Some of us want to watch films, not act in them.
Some of us want to be in the audience.
Some of us want to be cogs.
Not because we have to, but because we want to.
What I wanted?
This is what I wanted.
In the overwhelming, desolate, stunning landscape of the Faroe Islands, the body of a young person is found. Washed ashore on the asphalt. Charlotte Vandermeersch has adapted Norwegian writer Johan Harstad's much praised 'Buzz Aldrin, What Happened to You in All the Confusion?' and made it into a global verbal, musical and visual experience.
A compelling story about great love and losing it,
about great talent and not using it,
about a huge world and losing the overview.
NOT TO FORGET
BUZZ goes international!
From July 30 to August 25 at the Fringe Festival in Edinburgh, Scotland. Every day at 10 am, except on Mondays and on Friday 2 August.
filmisch
muzikaal
pleister voor de ziel
In de voorstelling wordt behoorlijk tot veel tekst gebruikt.
De taal begrijpen is belangrijk om te volgen.
PRODUCTION: ARSENAAL/LAZARUS, KGbe, KOPERGIETERY, RICHARD JORDAN PRODUCTIONS, THEATRE ROYAL PLYMOUTH BIG IN BELGIUM, SUMMERHALL
TEXT: Johan Harstad
TEXT EDITING, PLAY, VOCALS: Charlotte Vandermeersch
MUSIC: Antoon Offeciers, Karen Willems
FILM: Ann-Julie Vervaeke
SCENOGRAPHY: Stef Stessel
LIGHT: Stef Stessel, Jeroen Doise
SOUND: Korneel Moreaux
COSTUMES: Annelies Rasker
COACHES: Josse De Pauw, Jan Bijvoet
TECHNIQUE: Jeroen Doise, Korneel Moreaux
With the support of the Tax Shelter measure of the Belgian Federal Government.
PRESS QUOTE
"Charlotte brings the piece with great intensity, sensitivity, and she approaches it light-heartedly - it's not heavy on the stomach. You are drawn into a universe, that I would describe as scandi-noir. Musicians Antoon Offeciers and Karen Willems create a very atmospheric live soundtrack, with dreamy synths and subtle drum roll. The music fits together perfectly with the beautiful film images of desolate natural areas by Ann-Julie Vervaeke. All these elements create an intense  atmosphere on stage." KLARA Espresso, Filip Tielens, 21-10-2018
**** "The entire story is told by two performers: Charlotte Vandermeersch – in a superb gender-fluid performance as Matthias – and multi-instrumentalist Karen Willems, with the creative use of film by Ann-Julie Vervaeke... A moving, thought-provoking piece of theatre from a company punching well above its weight." THE SCOTSMAN, Susan Mansfield